Two members of the TecSalud team, an engineer and a designer reviewed 3 of digital development's highest ranked data collection platforms to see how they match up. Read more about the face off and our score categories in the intro blog.

Across our 5 scoring categories, we found CommCare to score highest, though we didn't weigh the cost factor which can get very high.
Its easy-to-use interface allows users to build very simple or complex applications. It is the most versatile builder that can solve your need for a single survey or  long-term case management. There is a limited free version you can use long-term if you just need a handful of users.
A major downside is not having an integrated data visualization tool which means you have to either download or integrate your CommCare data into a separate system. Access to integration . can cost upwards of $500- $1,000+/month. We have come up with more affordable work arounds to avoid using the higher tiered price plans if this type of system isn't in your budget. 
Product Orientation Score: 4.5/5
User Friendly and Intuitive: Overall, we found the CommCare user interface to be user friendly. From the beginning, the user is provided with support tools to guide them through the application building process. The application builder is intuitive to use. Helpful icons guide the user in selecting the right questions types.
Great Support Materials: CommCare has a comprehensive Help Site with information about every feature. The materials are not always updated. For a higher-level introduction, users can take a course in the Dimagi Academy that will guide them step-by-step in developing their first application. There is also a CommCare User Forum where participants can pose questions about the platform, and you can search through other peoples' questions. Finally, there is a wide variety of tutorials and webinars in YouTube — although please note that most of these are in English.
Application Simulator: CommCare has a phone simulator next to the application builder. This enables users to easily try app and immediately make any changes without having to download it onto a phone every time.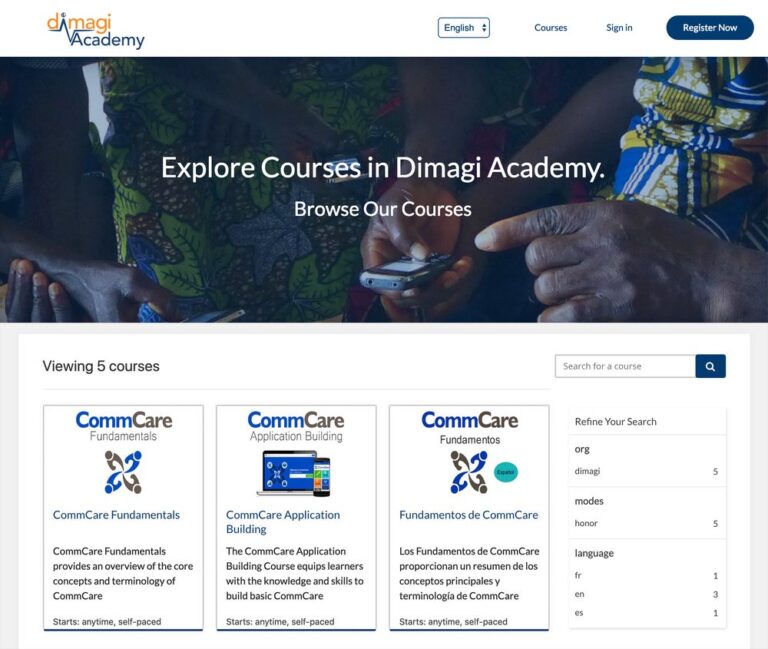 Features Score: 4.5/5
Free Version: CommCare's Community Edition (or free version) allows for many features to be included in the app without paying, including multimedia questions and many application design components. There is a limit to the number of users that can use the free app (5 at the moment, though this may change) and forms that can be submitted, which makes it a great option for smaller projects but potentially pricey if you need to scale. You can learn more about their pricing tiers on their pricing page.
Flexible Formatting: CommCare is very customizable. Icons and multimedia resources can be added to the questions, along with help messages, alerts, and text formatting. All of these features can help guide the user to make better use of their application.
Connecting data: The most important feature in CommCare is their Case Management feature, which enables you to link all of your forms together, when you want to track a topic of interest over time, be it a specific patient, household, farm or others. This helps application users to easily register and update information about this object of interest over time without needing to re-enter information every time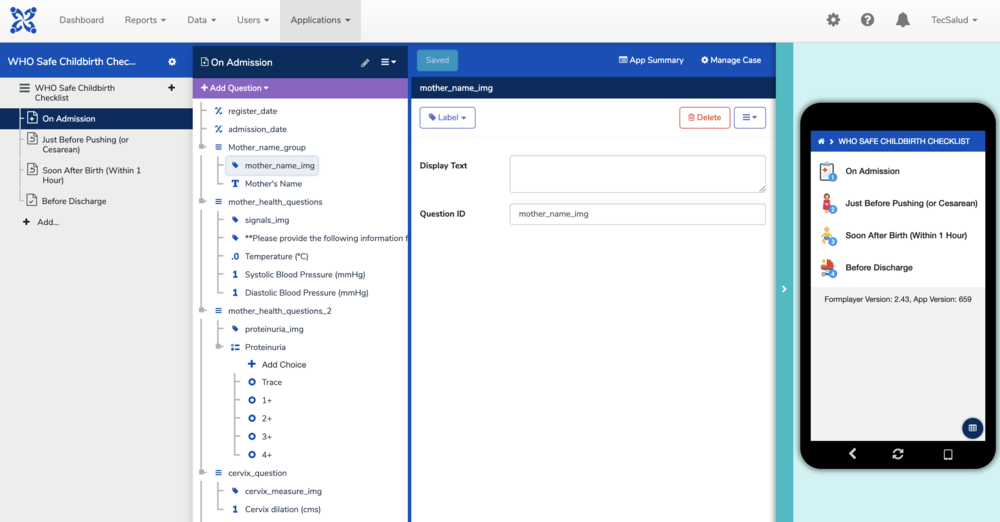 Logic Score:  5/5
Hidden values: A noteworthy feature in CommCare is called "hidden values." These are special types of questions that run complex calculations, or save values from previous questions and forms that are not visible to the end user. They take a bit of practice and you may need some support to configure, but they are very useful once understood.
Easy Logic Programing: Logic programming in CommCare is  easy once you have spent some time with the tutorials. Its drag and drop interface makes it easy to program logic without writing code. It does require a certain level of familiarity with conditional or logical structures to write complex logic. There is no visual help for logic programming in CommCare, so it requires users to be careful when programming. 
Complex Logic:  For advanced developers, its satisfying to write conditional structures because you can create nice logic sentences that enable the app to flow in natural ways.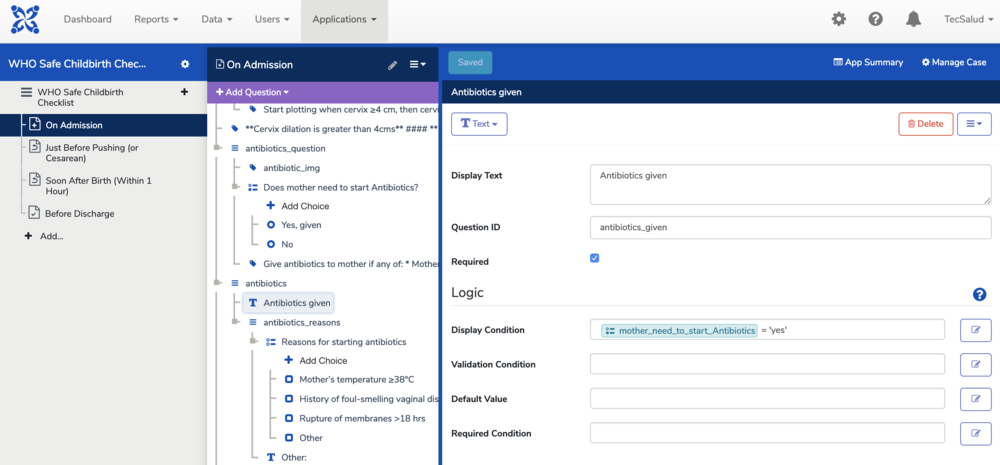 Mobile Experience Score: 3.5/5
Mobile Devices: CommCare only works on the web (if you pay for it), on Android devices, and with select Java feature phones. It does not seem there is a plan to make the application available to iOS.
Appearance: In this application, you can either have one question or group several questions on each page. Once you answer a question or group of questions on that page, you can click an arrow on the screen or swipe to the left to move to the next one. This allows for a clear and organized answering sequence, where you cannot skip mandatory questions, making the logic you programmed come into effect perfectly.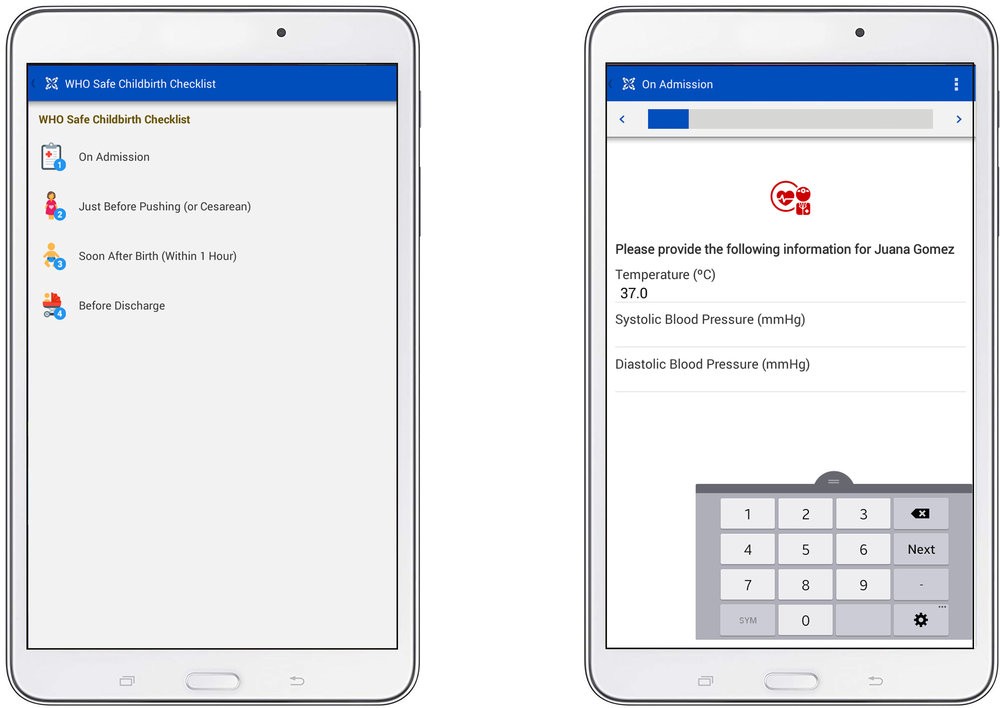 Reporting and Visualization Score:  3/5
Downloading Data: CommCare data can be downloaded into .csv and Excel formats. You can also create daily saved exports of data. The data export interface is user friendly and provides options to prepare the data in some custom formats. All data downloads can include information about the users who submitted the data.
Very Limited Built-In Data Visualization: There is no built-in feature that allows you to visualize the data you are collecting, be it in graphs, charts or other means. To do this, it is necessary to export your data from CommCare and into a separate data visualization tool, which adds an extra process to your workflow. There are some paid features (called "Report Builder") that do not warrant the hefty price tag to gain access. 
Expensive Reporting Integrations: In order to connect your CommCare data to an external system such as Tableau or PowerBI, you have to upgrade your paid subscription to "Advanced" which costs $1,000/month, regardless of the size or scale of your project. If this is the only paid feature you need, you are much better off manually exporting and refreshing. It takes an extra 5 minutes but will save your organization thousands. If you simply want to use the Excel connection, you'll be asked to pay for the most basic paid plan, which still costs $3,000/year. After testing for some time, we found the included support for visualization was sub-par and the paid project management support packages ($25,000+) to be way out of budget for many groups. Luckily, we have created some very affordable alternatives! Contact Us for info.
Read our reviews of the other 2 tools to get an idea of what they offer in comparison to CommCare. 
Check out our introductory blog, or our reviews of SurveyCTO and Magpi.